NEW CoolSculpting Elite is the most advanced CoolSculpting technology available yet to help you reduce stubborn fat and achieve your body contouring goals. The same body contouring you know and love, just updated to cover more area at once and amplify results. Just like CoolSculpting, the Elite technology is FDA-cleared, non-surgical, totally non-invasive, and requires little to no downtime so you can get back to your daily activities.

Larger Dual Applicators
With the CoolSculpting Elite system, we can use 2 applicators on your treatment area to freeze twice the amount of fat at the same time.
CoolSculpting Elite applicators also feature up to an 18% larger cooling area than the previous generation of CoolSculpting applicators.

9 Treatment Areas
CoolSculpting is the one and only treatment FDA-cleared to eliminate fat in 9 different areas of the body—more than any other nonsurgical fat reduction technology. Common side effects include temporary numbness, discomfort, and swelling.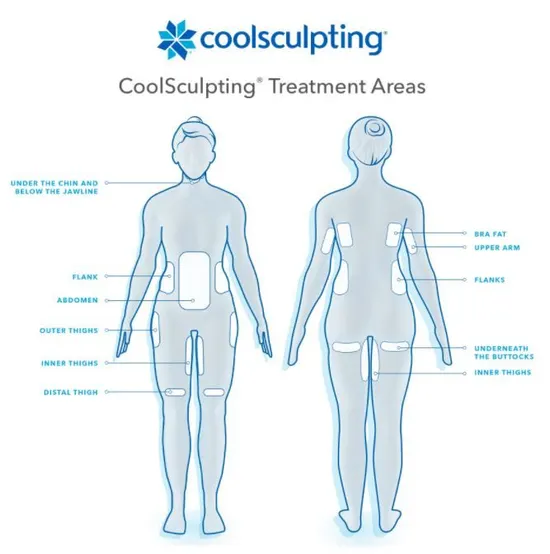 CoolSculpting vs CoolSculpting Elite
Better engineered = 100% of patients are getting faster and better results than ever seen before
Two applicators on each machine = freezing more fat in less time
Redesigned applicator = better contact, better grip, and better results
New rewards program

Allē

= more points for CoolSculpting and other Allergan services
Removable applicator heads = more treatments in less time
Quieter machine = more relaxation